Most Unique Games Of All Times
Scary Maze Game
What's original fascinating about Scary Maze Game To start with, SMG is not even a game... It is one of the most original internet pranks ever made or rather the most original. At first sight, SMG is no different from any other flash maze game, there is a maze and a small object player has to bring to the exit. Any player can get past the level one without an effort; next level however is more challenging and considerably harder. Player needs to focus on the task in order to succeed. And when he/she is focused enough that is when "it happens".
There are many versions of scary maze games, there's even a mobile version (for iOS and Android) but SMG is not effective enough on mobile phones since the scary effect largely depends on speakers (should be on high volume). There are also games like Scary Maze that don't look like the ones people are used to, and the ones that don't advertise the word "scary", which is good since you can easily prank people who have had experience with SMG in the past. You can however, forget about the game, there are only 2-3 levels (depending on game edition) just enough to make you relax, concentrate on the game, after "it happens" game is over. Except some editions like Scary Maze Game DX, if you really like SMG, can't live without it, DX version has more levels and without scary effect.
Don't Look Back
An emotional 8 bit puzzle / adventure game with a very powerful ending (reminds the Orpheus adventure in underworld from Greek Mythology, actually, it is a story of Orpheus and Eurydice). The game is old but not as old as you may think, it's been published by Kongregate website in 2009. To actually feel strong emotions about 8 bit game, is something we don't see every day. If you have played "One and One Story" and liked it, you'll definitely going to love this one. State of art game, flawless story, and musical background, difficult but in a perfect doze.
Best thing about the game is the atmosphere, how it makes you feel: sometimes you just want to let go the keyboard and enjoy the dark rainy sky, the music. The ending is very sad and shocking at same time, but everything makes sense, more than it does in any other game you've played before. While the game is enjoyable and lovable, it is also incredibly infuriating, but don't give up too soon, it worth going through hell to see the game finale.
Don't Look Back is a work of art, a philosophical game that makes you feel mixed emotions: the anger, sadness, intrigue and love. Excellent interpretation of the story from the Greek Mythology, the real work of art.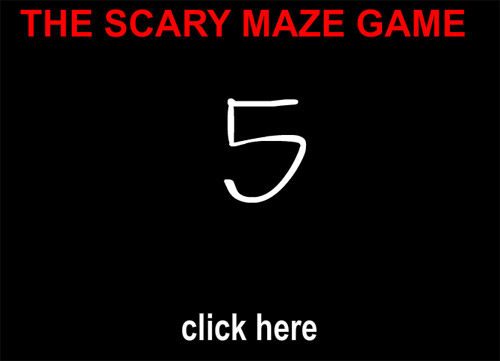 Karoshi Salary Man
99.99% of all games share the same concept: A hero saves the world, or at least saves himself, or dies trying. But what about the 0.01%? Tiny 0.01% is called Karoshi, salaryman with one purpose only, to die! The point of the game, or rather the goal of each level in the game is to die. How's that for original? Looking for ways to die instead of saving your a$$... Like whenever you see a door with an Exit sign, you ignore it, because if you go through that door the game is over.
Let's ignore the fact that Karoshi game has an extremely unusual premise; the game process itself is also very interesting: puzzles are intelligent and original, sound effects are fitting, and more importantly the game is fun. Action-platformer game Karoshi Salaryman is not just a show, 50 levels total in game one plus another 50 in the sequel Super Karoshi. Some levels are easy (in fact, starting levels substitute the game tutorial) and some puzzles are really hard, annoying at times. Anyway, the game is harder than you think in the beginning. But it is enjoyable, also, this is the kind of game that you'll definitely want to share with your friends.
Pillage The Village
Do you remember PC game Black and White? A god simulator game developed by Lionhead Studios and published by EA Games. The game in which player assumes the role of god to control villages and even islands. Pillage the Village is kind of same but with exception that there is no pseudo AI in it like it is in Black and White. However, in Pillage the Village game there are certain kinds of RPG elements like talent builds. 3 Builds 1. Neutral, 2. Pacifist, 3. Antagonist. We'll talk about talents a little later. Now, more about the game: PTV is a ragdoll physics game with advanced gesture recognition, superb graphics (for flash platform) and awesome gameplay.
Here is the list of talents from each build"
Neutral
1. Mana Power Plant - Increases Mana regeneration with each level
2. Mana Batteries - increases maximum amount of mana with each level.
3. Pit Trap Engineering - allows 1 free escaped villager per level
4. Venture Capitalism - More gold from villagers
Pacifist
1. Euthanasia - Temporarily imbues cursor with lethal injection
2. Slave Cage - Drops Cage into the village. Cage size will increase with each level
3. Freeze Time - Temporarily Stops time, additional levels increase duration
4. ?
Antagonist
1. Power Gauntlet - Converts cursor into the power gauntlet
2. Acme Anvil - Drops anvil on the selected area, size increased with each level
3. Great Barrier - Encapsulates the area with an elastic force field.
4. ?